November 2014


Brand new venue to open soon.


Swanmore Technology College are putting the finishing touches to a full size 3G artificial grass pitch. Swanmore have chosen JD Fives to be the exclusive provider of 5 a side football leagues.


The leagues will launch in the spring of 2015 on Wednesday nights.
More details are available on the Swanmore page
Anyone interested in a free trial game should get in touch to guarantee your place....
September 2014
Its a busy time of year with lots of new and returning teams getting back into the leagues, spaces in southampton are hard to find at our established venues with 120 teams playing each week at Southampton University, Wide Lane Sports Ground and Toynbee School in Chandlers Ford.
Thats why we have added an extra night at our brand new, full sized 3G venue at St Georges College in Swaythling, you can now enter our leagues on Tuesday and Thursday nights, contact us now for a free trial game....
Jan 30th 2013
Saints V Man City - Sat Feb 9th - Fancy tickets?

LIKE our facebook page and you'll go into the FREE DRAW taking place on Thurs Feb 7th....
June 6th 2012
England Match Cancellations
Due to England games on Mon June 11th and Tues June 19th all matches on these nights have been postponed to a later date. There will be no matches on Mon June 11th at Wide Lane, Toynbee School or Trojans Sports Club or on Tues June 19th at Brockenhurst College or Andover Sports Academy.
May 7th 2012
Bank Holiday Closures
Closed - Toynbee School & Wide Lane
Open - Trojans Sports Club
All matches at Trojans are ON as usual, unfortunately all matches at Toynbee School and Wide Lane are OFF. Please contact us if you'd like to arrange a friendly at Trojans.
Apr 25th 2012


Wet Wednesday Updated 15:12 Wed Apr 25th

Despite the bad weather all venues are currently fine for tonights games so please attend your fixtures as usual, if anything changes we will contact team captains immediately...

Apr 4th 2012
Find us on facebook
JD Fives have finally caught up with those who love facebook. You can now keep uptodate with all things JD Fives including news, special offers, competitions and tournaments by liking us on our official facebook page at facebook.com/jdfives
Bank Holiday Cancellations - April 9th 2012
All games are off at Southampton University, Wide Lane and Tyonbee School, Chandlers Ford due to site closure for the bank holidays. All games at Trojans Sports Club are ON. Any teams players looking to play depsite cancellations should contact us ASAP as there may be some friendlies or pitch time available.
Jan 17th 2012
Charity 5 A Side Football Tournaments
JD5s are proud to be hosting 5 a side football charity tournaments throughout 2012 to raise money for Help For Heroes and for Simon Says Child Bereavement Support.
2012 dates - We are now taking entries for all this years events
Sun Apr 15th/22nd - Help For Heroes - Andover - The sports Academy

Thurs May 31st - Simon Says - Andover - The Sports Academy

Thurs June 21st - Simon Says - Southampton University - Wide Lane

Sun July 15th - TBC - Southampton University - Wide Lane

Thurs July 19th - Simon Says - Brockenhurst College
Please visit our Charity page for further info
Dec 16th
Christmas closing/re-opening Dates
| | | |
| --- | --- | --- |
| VENUE | LAST MATCH 2011 | FIRST MATCH 2012 |
| Wide Lane -Mon | Mon Dec 19th | Mon Jan 9th |
| Wide Lane - Wed | Wed Dec 21st | Wed Jan 4th |
| Toynbee School - Mon | Mon Dec 12th | Mon Jan 9th |
| Trojans - Mon | Mon Dec 19th | Mon Jan 2nd |
| Trojans - Wed | Wed Dec 21st | Wed Jan 4th |
| Noadswood - Tues | Tues Dec 20th | Tues Jan 3rd |
| Noadswood - Wed | Wed Dec 21st | Wed Jan 4th |
| Noadswood - Thur | Thur Dec 22nd | Thurs Jan 5th |
| Brockenhurst - Tues | Tues Dec 20th | Tues Jan 3rd |
| Andover - Tues | Tues Dec 20th | Tues Jan 3rd |
| Gang Warily - Mon | NA | Mon Feb 6th |
Nov 29th 2011
JD Fives 5 a side football step up to support Hampshire FA referees

Hampshire FA is delighted to announce a huge step forward in the recruitment and retention of referees in grassroots football with 5 a side football provider JD Fives becoming the County's Official Partner for Refereeing from the 2012/13 season for a period of three seasons.
Full article

http://www.hampshirefa.com/News/2011/11/JDFivesStepUpToSupportHampshireFAReferees.htm
Nov 22nd 2011
New Venue - New Forest - Gang Warily Sports Centre
The home to Blackfield and Langley FC as well as 11 a side football in general in the New Forest now has the best in 5 a side football leagues starting soon.
3 latest technology 3G artificial football pitches will be hosting leagues from Sun - Thursday every week from Feb 1st 2012 onwards for up to 30 teams per night.
To get involved, book your free training sessions or friendly games ahead of the official league launch contact us now!
Oct 26th 2011
Wednesday nights expansion at Wide Lane - Southampton University
Its great news that more pitch time has become available to us at one of our most popular venues, we will be adding a new division to the night for the start of next season in December. Anyone interested in joining should contact us soon as the new places are expected to go fast!
New Venue - Andover
5 A Side football comes to Andover!
JD Fives is pleased to have been chosen to launch brand new 5 a side football leagues at The Depot Sports Complex in Andover on their brand new 3rd generation rubber crumb artificial pitch. The old hockey astro turf has been removed and we now have a fantastic foobtall facility on the best possible artificial surface, with new goals on the way and plenty of other improvements this is sure to become a favourite venue for all local footballers.
The leagues will launching over the next few months as well as some charity tournament dates coming soon.
Contact us now to arrange a free trial game, pitch hire or general enquiry.
July 19th 2011
5 A Side Football Pitch Hire - Now Available
We have limited pitch time available for hire at several venues.
You can hire as a one off or a series of bookings for a casual kickabout or match between mates and colleagues, or as a time to get some serious pre-season/mid-week training in.
Please contact us for availability and prices.
5 A Side Football Charity Tournaments
Southampton & Brockenhurst
Following on from the successful events in June (see below) we have another 2 charity tournaments available, please spread the word, the more teams we get the more money is raised for the 2 great causes.
Macmillan Cancer Support - Wide Lane sports ground, Southampton
Sunday July 24th 1pm
Simon Says Child Bereavement - Brockenhurst College, Brockenhurst
Thursday Sept 29th 6:30pm
New Leagues
Brockenhurst College 5 a side football leagues finally have a launch date - Tues Sept 13th. Places are available now in the leagues, we also have a limited amount of pitch hire available for casual hire with your mates or for a pre season traing session with your club.
Noadswood School - New Monday night 5 a side football leagues, due to the popularity of our Tues, Wed, Thurs leagues we have been able to expand to Monday nights, contact us now if you would like to join, existing teams are welcome to enter a second team at a £10 a week discount or even to change nights if required.
All Team League and Overall Golden Boot tables
4 teams currently have a 10 week winning streak with In Le God We Trust proving the most prolfic team out of all 190 other weekly 5 a side teams. 10.1 goals a game keeep them just ahead of Paasalona, Werder Beermen and Yeoman V all with a perfect 10 win record.
And Mr Vaghaun continues to top the scoring tables with 38 in his last 10 matches, across all JD Fives leagues 1'065 players have scored a massive 4'141 goals.
Follow links to view the All Teams league table and Overall Golden Boot tables.
June 26th 2011
Charity Tournament Winners
Congratulations to The Big Pecker, and to RSC Cobras for winning the Macmillan Cancer Support and Simons Says Child Bereavement Support fundraising tournaments on June 19th and June 23rd.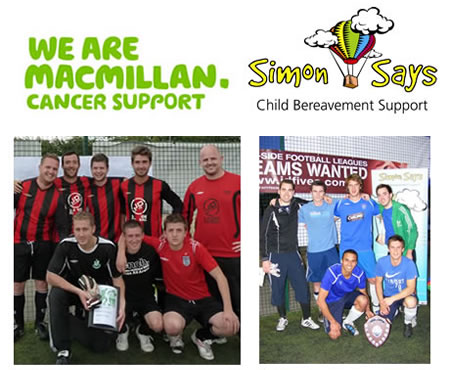 The Big Pecker RSC Cobras
Macmillan results and gallery Simon Says results and Gallery
And a massive thankyou to all teams who entered as well as to Southampton University for their continued support of our charity events.
In all 29 teams entered the 2 events raising almost £1000 for the 2 charities.
This is a great achievement and will make a real difference to peoples lives, both charities were so pleased with the events that we will be running them on an annual basis.
There is still time to help raise more money for these 2 great causes in our July tournaments.
Simon Says Child Bereavement Support - Brockenhurst College, Brockenhurst, Thursday July 21st.
Macmillan Cancer Support - Wide Lane Sports Ground, Southampton, Sunday July 24th.
To enter or for more details please contact us at JD Fives.
June 8th 2011
Fixed £10 discount on match fees for any team entering a second team either on the same night or a different night, this open to any existing JD5s team, contact us now for details and availability.
Mar 23rd 2011
Simon Says Child Bereavement Support - Charity tournament
On thurs June 23rd JD Fives will be hosting a chairty tournament with all proceeds going to this fantastic charity, please help support the event by coming along to get plenty of competitive football, enjoying yourselves and supporting a great cause, all proceeds go to the the Simon Says Charity..... more details
Mar 21st 2011
FA Grassroots Football Survey
Take part in the FAs grassroots football survey and not only will your views help to shape the future of the game but youll also get the chance to win Englad tickets and many other prizes, just by completing the online survey...... This event is now closed
Feb 22nd 2011
Macmillan Cancer Support fundraising tournaments 2011
The dates for our 2 summer tournaments to raise money for this fantastic charity have now been set.
Entries are strictly limited to 36 teams and some places have already been booked.
There is a great team of volunteers out right now raising awareness and also some amazing prizes so dont be late in registering your team, check out the Macmillan Cancer Support Tournament page for more info and to book your place or ask any questions just call us on 07775538637 or got to the contact us page.
Feb 7th - 10th 2011
Guinness World Record 5-A-Side Tournament


All league matches this week will form part of the Jack Boothroyd Tournament. A Charity event and world record attempt.

Friday Jan 21st
TOYNBEE - All Monday fixtures from Jan 24th onwards have been changed, please check your kick off times to ensure you turn up at the correct time!
Wednesday Jan 5th 2011
New Venue - Brockenhurst College, New Forest.
New Forest Leagues will be running at Brockenhurst College on their brand new all weather pitch from April - May - June 2011.
The new pitch is nearing completion and leagues will launch with a full 5 division night for 40 teams on Mondays. This will then be followed by other weeknights.
The dedicated sports college has fantastic facilities, plenty of parking, showers and changing rooms as well as great transport links with nearby bus routes and train station.
Brockenhurst also boasts 4 pubs, a chinese and a chip shop within walking distance of the pitch for your post match pint and snacks!
Contact us now to reserve your place and to arrange pre-season friendlies and training sessions.
Staff and Referees are also required for this venue, earning upto £50 per night - please contact us for further info or email us your CV and we will be in touch.
Friday 24th Dec
Christmas Break
All matches resume the week beginning Jan 3rd,
except for Toynbee School which kicks off again on Jan 10th.
Monday Dec 20th

New Leagues - Tues/Wed/Thurs Nights, Waterside, Hythe.
All 3 nights are now up and running with 30 teams playing every week. There are still a few spaces left so call now for your free trial.
Player Looking For Team - Monday Nights
Player looking for lower division team to play for Monday nights, used to play premiership at Wide Lane but has been out injured for 2yrs, keen to start asap. Please contact JD5s if your interested
April 1st 2010
BANK HOLIDAY MATCHES
All matches at Toynbee school are OFF on Monday April 5th due to site closure, matches will resume as usual on Monday April 12th. All games at Trojans and Wide Lane are ON as usual. Any team struggling to make their fixture should inform us ASAP.
Feb 11th 2010
Charity Football Tournament's for 2010

Wendys Appeal - In aid of McMillan Cancer Support
Wide Lane Sports Ground - Sunday April 18th
Help us to raise vital funds for this great cause and enjoy a superb afternoons football on Southampton Universities top class pitches.

Fire Fighters Charity
Sunday June 8th - Toynbee Sports College - Chandlers Ford
Bring the family down for a great day of football and activities.
New Leagues - Spaces Available NOW

Monday - Trojans Sports Club - Division 3 - March 1st
There are currently 3 spaces left in this new division bringing us up to a full 5 divisions of 8 teams.

Tuesday - The Hub - Championship - March 9th
The current league of 8 teams will be splitting into 2 leagues of 6 allowing 4 new teams to join in this competitive night.

Wednesday - Trojans Sports Club - Division 3 - April 14th
With the current 4 divisions oversubscribed we already have 3 teams signed up. The start of the new season is still a few weeks away so if your ready to play now let us know and we will organise weekly friendlies and training times for you free of charge.

New Venue - Waterside league launch delayed - April
The new leagues to be held 4 nights a week on the brand new pitch at Noadswood school in Hythe have been delayed due to the recent bad weather. We now expect the pitch to be ready early april. Spaces are still available.
League News
Barcaloners may have wrapped up yet another Premier League title at Wide Lane but things are far from over in Division 2. With back to back promotion secure for the Workhorses they now have to overcome
SGH Mess Allstars, currently tied with them at the top of the table on
equal points and equal goal difference! Not only will the match settle this seasons title but it will also produce the league Golden Boot winner, Syed of SGH, Lea and Joslin of Workhorses, are on 13, 12 and 11 goals respectively as they head into their biggest match of the season.

Whilst at the bottom of Div 2 World of Water face old rivals Faders with the losing team facing certain relegation.

Team Web Pages
All teams in our leagues now have their own web page
(click on your team name in your league table)
Each team page shows your full seasons fixtures and results as well as player stats and team history. Any team wishing to provide a photo, team intro and match reports can email them into us at anytime.


Need players?
Any teams struggling for players should let us know as we have several players looking to join
teams on an ocassional or regular basis.
Jan 21st 2010

New Leagues
New leagues are starting on Mon, Tue and Wed in Southampton, only 8 places left. New team discounts available as well as extra discounts for existing teams, please contact us for details and a free trial match.
Waterside Leagues - Pitch update
Due to the bad weather the construction of the new state of the art pitches at Noadswood School in Hythe have been delayed.
The league will now launch in March/April this year, team response from the area has been great and half of the spaces have now been taken, that still leaves plenty of places for new teams so please get in touch if you are interested.
Teams looking for players
Several teams on Mondays, Tuesdays and Wednesdays are looking for occasional and regular players to join their teams in the JD5s leagues.
Please contact us for further details if you'd like to play.
Dec 23rd

JD Fives Poker Tournament
After lots of interest from existing players we are currently confirming details of our first ever poker night exclusive to JD5s. Space will be limited to 90 poker faces, all looking to scoop the cash prize, there will also be further discounts and offers from local clubs and bars to our poker venue so this should be a great night out. Date and details will be confirmed over the christmas period but expect it to be early Feb 2010 - keep an eye out for more details.
Free Season Competition Winner!
The smug lot who wont have to pay for their next season are -
Mackerel Pasty Lickers - Div 1 Trojans Wednesday
Congratulations to them and please look out for details of our next competition.

Dec 16th
Last Matches for 2009 and First for 2010

Mondays - Dec 21st returning Jan 4th
Tuesdays - Dec 22nd returning Jan 5th
Wednesdays
Wide Lane - Dec 16th returning Jan 6th
Trojans - Dec 23rd returning Jan 6th
Joslin finally gets his hands on some silverware winning the Div 3 Golden Boot trophy and beer having helped the Workhorses gain promotion at Wide Lane.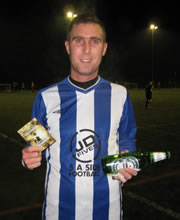 The loss of super striker Gardnerio to the big city lights has been cause for concern but new signings and a bouyant team spirit has seen the horses off to a strong start to life in Div 2.
Nov 23rd
Got something to say?
To help you get your point across and for us to deal with all queries more efficiently we have added a Team Feedback area where you can submit any request, question, complaint or compliment!
Nov 18th
Referees required - due to new leagues and a general drive to improve the quality of our refereeing standards JD Fives is looking for new referees to join the team. Qualifications and experinece is a bonus but its your performance that counts, all JD Fives refs will be expected to referee in a style suited to our friendly, professional leagues. Turning up for easy money doesnt work and you wont last long! If your not yet qualified but think you could do a good job let us know, we'll get you in for some experience and will help get you through your FA qualifictaions as well.
With leagues running throughout the week and other refereeing opportunities available you could earn several hundred pounds a week!
Kickstart Youth Leagues
JD Fives are supporting this initiative to get more 13-16yr olds out of trouble and playing organised football. Funded by the Football Foundation and Southampton City Council, we hope this scheme will be a great success and look forward to helping with web hosting, staff and promotions support. More details

Nov 16th 2009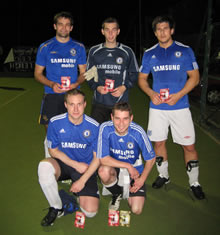 Met RX receive their trophies after a double title winning 28 game unbeaten run!
Nov 11th 2009
New Venue
Our latest venue will open in spring 2010 at Noadswood school in Dibden Purlieu. Ideal for teams from the New Forest and Waterside areas, there are no other facilities like this for miles around, a brand new third generation pitch which is due for completion Jan/Feb next year. If you would like to register a team or are an existing team looking to switch venues please let us know ASAP so we can confirm your place, demand is expected to be high!
Discipline Reminder
Please remember all red cards are reported to Hampshire FA and you are bound by their disciplinary procedures, this can include bans from all FA football, including 11 a side games, as well as possible fines!
Pictures Updated - Toynbee School
Pictures taken a few weeks ago at Toynbee are now in the gallery as well as a few around the main website!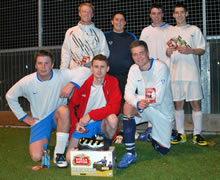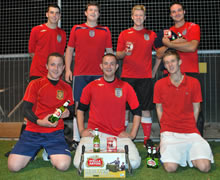 White Lightening CFF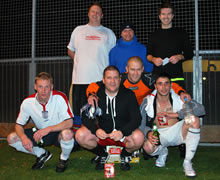 Badd Boys Re-United
Nov 4th 2009
Player and Goal Keeper Looking for teams to join on Wednesday nights

Waterside Leagues - New Venue
From Early 2010 (Jan/Feb) work will be complete on Hampshire's latest third generation artificial football pitch at Noadswood School, Dibden Purlieu. JD5s has again been chosen to host the 5 a side legaues at this fantastic new site and teams are already starting to sign up for free trial games before committing to the leagues.
Matches will be played between 8pm and 10pm nightly, demand is expected to be high especially as there is no facility like this for miles around! Either get your mates and work colleagues together or get your 11 a side team to try it out, our FA afilliated, professionally run leagues are a lot more fun than a cold nights training in the winter!
Please contact us to reserve your place or for more details.
Any existing JD5s team wishing to move to this venue if it is more convenient for you should let us know ASAP and we will give you a priority place on your chosen night.

Official League Photographer


Tim Hudson, local professional photographer, will be attending the prize giving night and first night of the new leagues starting this wednesday,
Sept 16th at Trojans Sports club. The aim will be to get some pictures of all the trophy winning teams of course but also action shots of all the matches and team shots for all the teams in every league.

Pictures will be put up on the website as well as details of how to purchase prints should anyone like the look of themselves!
We hope this will continue for every venue throughout the year.

Thurs Sept 10th

Golden Boot Leagues


After discuvering a bug in the system (thanks to the eagle eyed Mr Lambert, now on 17 goals and an impressive 9 in his last 2 matches!)
We have now fixed the overall golden boot league table, and have expanded it to show every single JD5s player who has scored in their last 10 matches.
Not a definitive guide to who is the best striker but a good guide to who is on fire at the moment, check it out to see how you rank against every JD5s player across all our leagues.


Wed Sept 9th

Wendys Appeal Charity 5 A Side Tournament - April 18th 2010
Wendy's Appeal is a fundraising charity and will be donating all proceeds to Macmillan cancer support.
Book your team in now for this Champions League style event run at Wide Lane Sports Ground, one of the finest artificial pitches in the south, with full bar and changing facilities.
Trophies, beers and prizes to be won...
Contact us now to reserve your place
Competition
Win your team a free season - this competition is only open to existing JD5s teams and players. Go to competition page

Wide Lane Pitch Improvements
The University have agreed to improve the quality of the new dividing nets over the coming weeks as well as place a dividing net between our 3G pitch and the adjacant hockey pitch. This should help keep the footballs closer to our pitch at all times and improve the general flow of the matches.

Fri Aug 28th


BANK HOLIDAY MATCHES - All matches are ON as usual.
All Teams League Table - Web Feature Now Live On The Score Centre
You can now see how your team is performing compared to every other team playing with JD5s, just click on the All Teams link under Leagues in the Score Centre and you'll see your overall position based on your last 10 matches. This is updated every week so you can judge your perfomance against 140 other 5 a side teams!
Go There Now
New Trojans Div 3
We have 8 more teams ready to start the new season as Div 3 bringing us up to 40 teams and 5 divisions on wednesday nights. The new teams will bring some fresh competition to the league so watch out, will any of them make it 4 straight promotions in a row!
New Wide Lane Wednesday Div 1
We have just confirmed more time at this great venue to allow us to start a new division on wednesday nights. We have 6 places available at our most popular site. Any teams wishing to join, enter a second team or switch venues should contact us ASAP!
Youth Leagues - 5 A Side for 16-18yr olds
Due to recent enquiries we are launching a youth only 5 a side team at the brand new third generation pitch in Winchester at the Henry Beaufort School Later in 2009. Ideal for younger players who dont want to play against a load of grumpy old men! Or youth teams looking to get some practise and experience in to help with your 11 a side team. The pitch is currently being built so the launch date cannot yet be confirmed, the scheduled date is mid-October. to register your interest and for further info. please contact the team.
Need Extra Players? - Looking For A Team?
Let us know by email, a phone call or tell one of staff team at your venue and we will try and sort things out for you...
Charity Tournament
JD5s have been asked to run a fundraising tournament for the local charity wendys appeal, all money raised will be donated to Macmillan Cancer Support, so please sign up now for what should be a great event.
The Tournament will be held on April 18th, 2010, at Wide Lane Sports Ground with a nice hangover friendly 1.30 pm start on a Sunday. Please register early to help us make this a succesful event and raise money for this good cause. Trophies and Beers to the winners!
JD Fives 5 a side football
Hampshire FA's Official Partner for Refereeing 2012-2016