Hampshire Football Association

JD5s is fully affilliated to the Hampshire FA as a five a side football league provider. Over the last 8yrs JD5s have worked closely with Hampshire FA to ensure all aspects of our football leagues run as smoothly as possible. Including qualified FA refs and full backing in disciplinary procedures.
JD5s fully supports the RESPECT campaign
JD Fives step up to support Hampshire FA referees

Hampshire FA is delighted to announce a huge step forward in the recruitment and retention of referees in grassroots football with 5 a side football provider JD Fives becoming the Hampshire FA's Official Partner for Refereeing from 2012-2016.
Hampshire FA is seeking to meet a target of providing a qualified match official for all matches played in the County and to help achieve The FA targets for increasing the number of match of match officials nationally.

JD Fives are a successful 5 a side football provider with five venues and over 190 teams. They have 30 different leagues and can therefore offer football at a wide variety of levels and on four different days. In order to give every new team the chance to check out their facilities and management they are offering free friendly matches and training sessions each week.
Hampshire FA Chief Executive Neil Cassar said: "Referees are paramount to the success of grassroots football and I am delighted to be teaming up with JD Fives to help recruit and retain more referees which is a key theme of The FA's National Game Strategy. I hope that our relationship with JD Fives proves to be beneficial and continues for many years to come".
Ian Curry of JD Fives added: "We are delighted to become Hampshire FA's Official Partner for Refereeing. Everyone recognises the importance of having enough qualified referees and I hope we can assist Hampshire FA to achieve this. We will be providing an excellent environment for referees to officiate at our venues and I hope we can make a positive impact on refereeing in the County for many years to come."
Thinking about becoming a referee?
Its a great chance to stay involved in the sport whilst earning and extra income. For further details please click here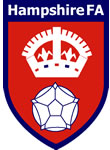 To visit the Hamphire FA main website click here
JD Fives 5 a side football
Hampshire FA's Official Partner for Refereeing 2012-2016